The ultimate way to get a better job and earn more money in the Salesforce market!

🔥 GRAB THESE FREE RESOURCES! 🔥

Looking for GROUP COACHING? 👇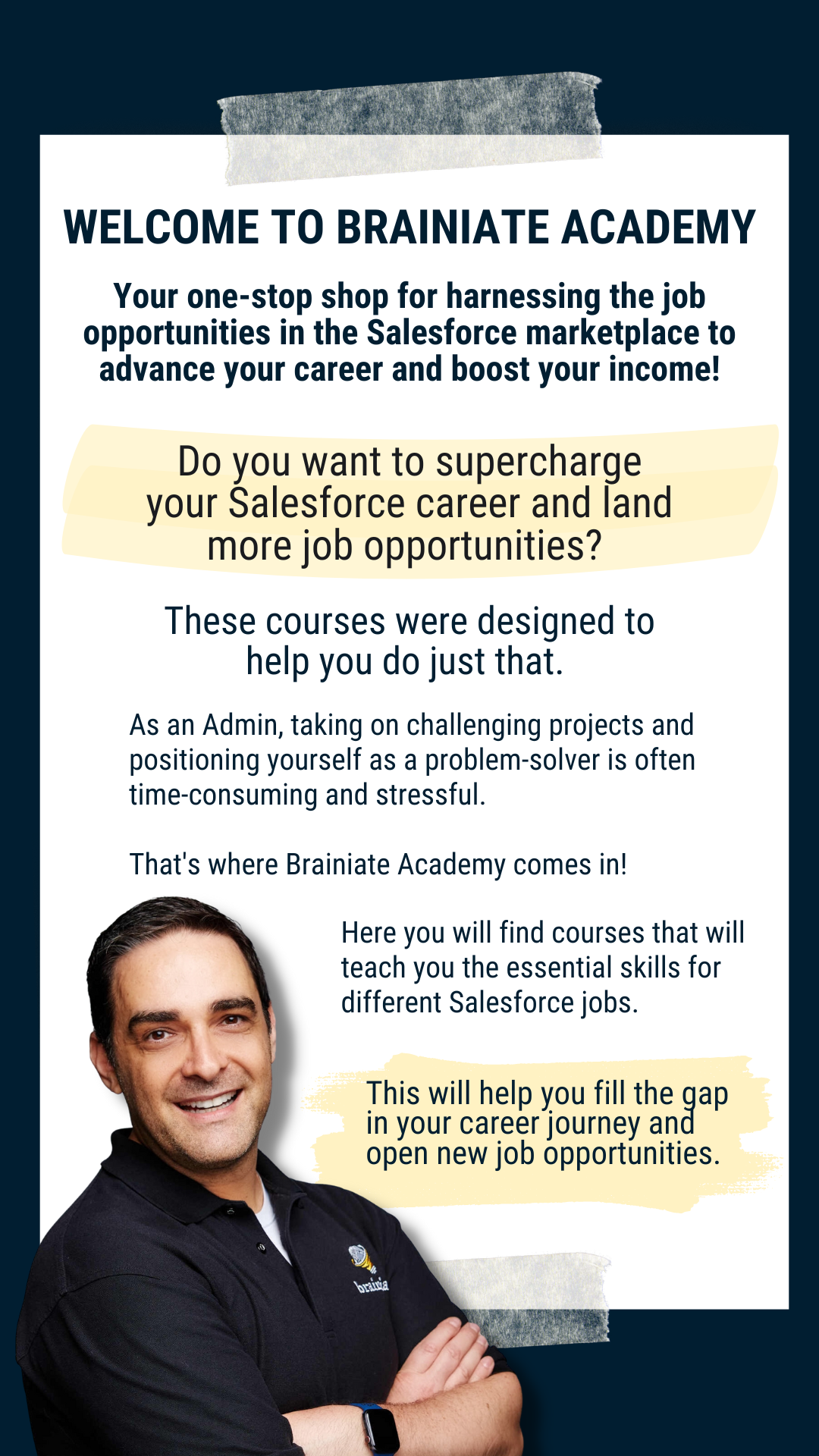 Finding the time or resources to get the training you need to advance your Salesforce career can be tricky. 
Salesforce is a rapidly growing platform with many job opportunities, but if you don't have the proper skill set, it can be hard to take advantage of them. 
Brainiate Academy offers online courses and coaching programs to help you learn everything you need to advance your Salesforce career.
With our easy-to-follow courses, you'll get the training you need on your own schedule without sacrificing time or money.


Salesforce experts are in high demand!

If you're looking to take your career to the next level, Brainiate Academy is the perfect place for you.

We offer extensive courses to help you master the many job opportunities in the Salesforce ecosystem.

With our courses, you'll gain comprehensive knowledge and skills that will make you an invaluable asset to any company.

You'll be able to take on challenging projects quickly and make a name for yourself as an expert in your field.

Enroll today to put your Salesforce career on the right track!

Let's get your Salesforce career moving in the right direction!
Here's how Brainiate Academy can help you:
Unlock career growth and job opportunities in the Salesforce ecosystem.
Tap into the most comprehensive and job-relevant training for the Salesforce ecosystem. 
Quickly increase your skills and take advantage of the many Salesforce job opportunities in the growing marketplace.
Learning new skills is easy and fun, so you can focus on your career and love what you do!
Access convenient and straightforward solutions for mastering the essential skills needed to advance your Salesforce career.
Easy-to-follow courses with on-demand lessons to help you learn critical skills desperately needed on the job.
Fill the gap in your career journey and open new job opportunities.

Ready to make the next big move in your Salesforce career? 
With our courses, you can become an indispensable asset as a Salesforce expert. With your extensive skillset, you'll be prepared for any challenge and stand out among other professionals – it's time to take control of your future success!

What can you expect to gain from these courses?

Tim was feeling overwhelmed.
He was in the Salesforce ecosystem for a while and knew he needed to improve his skills if he wanted to advance his career.
But with so much information and limited time, Tim felt overwhelmed.
One day, Tim stumbled across Brainiate Academy's online courses. It sounded too good to be true! 
After some research, however, Tim realized this could be exactly what he needed.
Excitedly, Tim signed up for a project management course that same day.
As soon as the course began, Tim immediately felt more confident about tackling larger projects without fear of failure due to a lack of experience or skill set. 
With each new lesson, not only did his understanding of critical concepts deepen, but also the excitement over potential new positions grew stronger every day! 
Thanks to Brainiate Academy's courses targeted specifically for Salesforce professionals, Tim is an impressive candidate on any project he encounters, no matter how challenging it may seem.
Success is just around the corner!