This course is perfect for you if you're:


✅ preparing to sit for the Salesforce Administrator Certification Exam;
✅ brand new to Salesforce, and don't know the difference between an object, field, record or record type;


✅ already a Certified Salesforce Admin, and super comfortable in Classic, but the idea of doing any configuration in Lightning gives you a panic attack;


✅ eager to learn some of the insanely cool, easy-to-use, powerful drag and drop features of Lightning, allowing Admins to dramatically modify the layout, navigation, features and components appearing on screens..practically anywhere in Salesforce.
If you're a new Salesforce Admin, working in Lightning Experience, this course will teach you the fundamentals of what you need to know to be successful on the Salesforce platform.


While the curriculum for this course is modeled after the materials covered on the Salesforce Admin Certification Exam, the goal of this course is to share and explain best practices around WHY and WHEN to use the various areas of functionality that we'll be discussing.


Throughout this course I will be referencing the related materials that already exist on Trailhead, and I will be "breathing life" into the concepts by explaining them, and showing how to use them.


Essentially, Trailhead will be your digital textbook, while I will help you navigate through all of the materials with real life examples, tips, warnings and advice on how to best leverage these features in your day-to-day job.


Along the way, I expect you to have a lot of fun...because I always believe that learning should be fun!
This course filled in a lot of knowledge gaps that I had along with pointing out some very basic but often overlooked items that I have already begun to put into practice for my own org. - L.S.
⭐⭐⭐⭐⭐
Upon enrolling in this course I had 11 years of hands-on experience in the Classic UI and had completed several Trailheads pertaining to the Lightning UI but knew there was much more to learn about Lightning. This course taught me exactly what I needed to know to be comfortable with Lightning to take my career to the next level! And the Best Practices shared throughout the lessons were invaluable! - R.T.
⭐⭐⭐⭐⭐
I learned how to comfortably navigate the setup and configuration options in Lightning, and how to optimize the system to streamline our business processes. - N.J.
⭐⭐⭐⭐⭐
The structure and functionality of lightning experience as well as overall best practices as it relates to being a Salesforce administrator. - J.V.
⭐⭐⭐⭐⭐
More exposure to the concepts behind effective Salesforce administration. - M.H.
⭐⭐⭐⭐⭐
I am super thankful that I'll continue to have access to the course material forever! I will be going back to rewatch the live videos over the next few days because there were things covered there that aren't in the course materials that are super helpful... like customizing users "person" pages (instead of having individual dashboards!!). Key things -- I need to dive more into process builder/flow as I think they will be key differentiators in my role; SIMPLIFYING page layouts, adding quick actions, creating roles as we currently share all things across the entire organization (gasp!). - G.W.
⭐⭐⭐⭐⭐
Way too much to mention! I think my biggest takeaway is how to customize objects and page layouts. - P.M.
⭐⭐⭐⭐⭐
I learned almost everything, considering that I am new to Salesforce, I work as an IT Consultant and Business Analyst, my employer uses Salesforce and I didn't know about it. This was the first time I saw the platform. - J.B.
⭐⭐⭐⭐⭐
I enjoyed David's candor and his ability to leverage use-cases to make sense of the content. One big aspect that is missing from Salesforce's own training is that it's not exactly relatable. David's content is that missing link and **BONUS** he also makes learning fun! (TIP: It's about more than badges and sashes) - L.S.
⭐⭐⭐⭐⭐


I enjoyed the hands-on training as well as the common sense and best practices advice from David. - N.J.
⭐⭐⭐⭐⭐


Your practical teaching approach of mixing the technical aspect of the product as well as overall Salesforce admin best practices. I also like the specific references to the corresponding Trailhead documentation and Trailmixes - allows for easily expanding on any particular subject that is relevant in real world scenarios. - J.V.
⭐⭐⭐⭐⭐


Your personality!! Providing honest (raw) opinion of things, the way you tell us to stick to our guns ("no... you are not doing that... lmao). Also - I love the facebook live sessions and am honestly going to miss them. - G.W.
⭐⭐⭐⭐⭐


Video learning-I move at a slower pace naturally so I always find myself a little behind in live classes. I was able to pause, rewind and play. This was extremely beneficial on parts of the course I knew nothing about. - P.M.
⭐⭐⭐⭐⭐


The Best Practices were extremely valuable. - R.T.
⭐⭐⭐⭐⭐


The videos and ability to slow them down. - M.H.
⭐⭐⭐⭐⭐


How easy it is for me to create a Lightning Custom App with Custom Components, I have even created one app for me to track and manage my projects, something like a Scrum Project Management App. - J.B.
⭐⭐⭐⭐⭐
Structured and AWESOME instructor led certification prep,
Confidence building for new or self taught admins,
Creative thoughts and implementation ideas
 :) - J.V.
⭐⭐⭐⭐⭐


Gain confidence,
Expand your knowledge, and
Actually enjoy Salesforce! 
- L.S.
⭐⭐⭐⭐⭐


I'm now able to accomplish in Lightning what I used to do in Classic.
I learned about new Lightning apps and features that I had no prior knowledge of or familiarity with.
I can and will become a Superstar Admin, and it helped in building a strong foundation for my career in the Salesforce ecosystem.
 - N.J.
⭐⭐⭐⭐⭐


Learning new/fresh ways of doing things;
Preparation for the certification exam;
The format allows for networking and learning from others as well -- I enjoyed exchanging ideas and information with people in the class and seeing people share and help you with providing answers/solutions to questions/problems that were asked.
 - G.W.
⭐⭐⭐⭐⭐


Get to know the Salesforce environment from scratch, and the difference between an Admin and a Developer.
Improve my Business Analysis Skills and Experience
Get to know some Best Practices from an Experienced Person like David.
 - JB
⭐⭐⭐⭐⭐


Understanding and becoming comfortable with the Lightning UI from an Administrator role.
Learning Best Practices.
The ability for students to ask the instructor specific questions as it pertains to real-world situations.
 - P.M.
⭐⭐⭐⭐⭐


I will look like a rockstar to my users.
I have more confidence.
I have a broader knowledge of the super powers of lightning
. - P.M.
⭐⭐⭐⭐⭐


Great exposure.
Good to reference and
Help round out concepts before going for certification.
 - P.M.
⭐
⭐⭐⭐⭐
Absolutely. If you don't walk away from this class with a notebook littered with items to either cross reference or implement in your own Org, you weren't paying attention. I am so glad that I ran across you on LinkedIn. Thank you for doing what you do. You may want to go ahead and file for a pre-emptive restraining order as I do plan on stalking you until you finally cave and release an advanced admin class 
😉. - L.S.
⭐⭐⭐⭐⭐


ABSOLUTELY!! You're going to have my daughter in the next course!
 - G.W.
⭐⭐⭐⭐⭐


YES! YES! AND DEFINITELY YES! This has been the one of the most engaging courses I have ever taken on any topic. The structure, flow and energy from this course has left me wanting to learn all there is about Salesforce! This course and interaction with you has given me great confidence in my skills and my role within my organization. I have taught myself everything I know about Salesforce up until this course and not only have you reinforced the methodology and processes I have been working to build and follow for the past 8 years but you've taught me so much that I didn't know at all! I now have a hunger to level up my Salesforce skills and become the Salesforce rockstar you keep referring to! :) Lastly, I have already signed up for my Admin Certification Exam - something that I have talked about for years but never had the courage to take! Thank you for all your hard work, energy and sincerity you have put into making this course happen!
 - J.V.
⭐⭐⭐⭐⭐


Yes, absolutely. Because this course is in my opinion one of the most helpful and friendly way to learn about Salesforce
 - J.B.
⭐⭐⭐⭐⭐


OMG...YES! As adults, we're never supposed to stop learning. I was able to implement many of the tips and tricks David taught right away! The course didn't feel like the usual classroom drudgery and it was an immensely enjoyable experience. Thanks again David for your time, attention and passion for this work
! - N.J.
⭐⭐⭐⭐⭐


Absolutely! This beats any training from SFDC any day! 
- P.M.
⭐⭐⭐⭐⭐


I would absolutely recommend this course! David's knowledge of the material is excellent and his teaching style is very entertaining and engaging.
 - R.T.
⭐⭐⭐⭐⭐
Here's some additional feedback from previous students: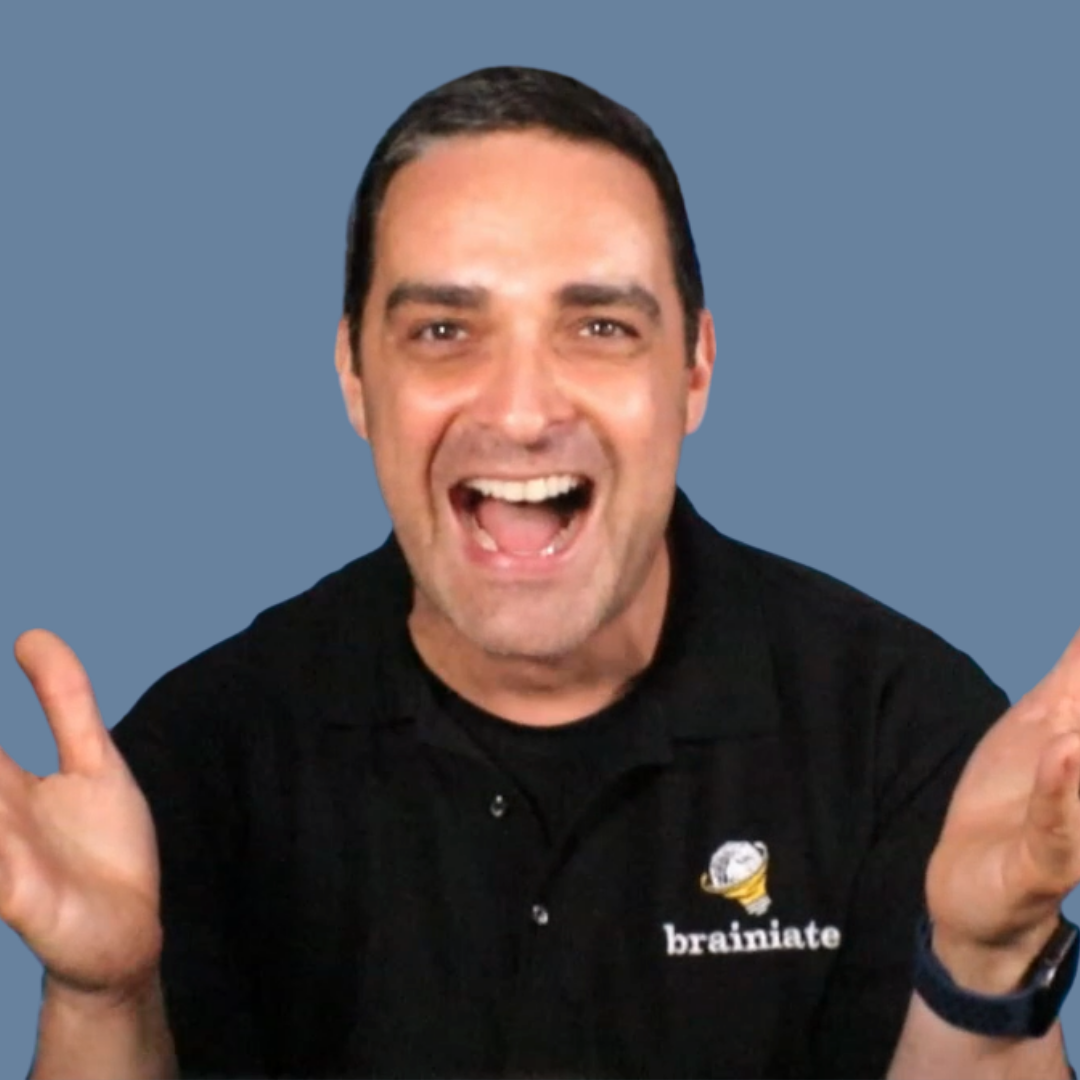 YOUR INSTRUCTOR
I'm David Giller and I'm a Salesforce Consultant and Trainer. As CEO of Brainiate, my team and I help companies get the most out of their Salesforce investment by unlocking awesome features, streamlining their business processes and automating their painfully time-consuming processes..wherever possible.
I've been involved in corporate training for most of my career, and I've been training people how to use Salesforce for the last 12+ years.
I typically provide this training course to enterprise organizations that want an onsite, in-person, exclusive, customized class to teach their employees how to become Salesforce Admin rockstars and sit for the Salesforce Admin Certification Exam.
While the curriculum is structured to match the Admin Certification Exam, my goal is to teach you the best practices, tips and advice that come along with knowing how to use the features and functionality in the system.
FREQUENTLY ASKED QUESTIONS
When does the course start and finish?
Upon enrollment, all students will will receive IMMEDIATE access to pre-recorded course material. You will have lifetime access to all recordings, links and other course materials.
Students who enroll in the STANDARD or PREMIUM plans will also get a calendar invite to join the private Zoom meetings 11am-12pm Eastern (M-F) from April 19 - 30, 2021.
During these dates, we will have daily live, interactive sessions via Zoom, to answer questions and dive deeper into the lesson for the day.
The Zoom meetings will be recorded and available to you, in case you miss the live event.
How long do I have access to the course?
You will have access to all of the pre-recorded lessons for life.
What if I am unhappy with the course?
I would never want you to be unhappy! If you are unsatisfied with your purchase, contact me within the first 30 days and I will give you a full refund.
Is this course appropriate for beginners, who have never had any exposure to Salesforce at all?
If your goal is to learn how to set up and customize Salesforce, the answer is YES. When introducing any Salesforce feature, we will be explaining the concept behind it, how it's used, when it's used and why it should be used (or NOT USED in certain situations).
That being said, there is a pre-work Trailmix that is critically important for everyone (particularly newbies) to complete before our first class. That Trailmix will walk students through the overall navigation and general concepts (Accounts, Contacts, Opportunities, Activities) in Salesforce.
I've been a Salesforce Admin for a while, but brand new to Lightning. Will this course help me?
I was a Salesforce Admin for many years before Lightning was introduced. I was totally lost and confused on how to navigate around the new setup screens in Lightning, so for the first few years I was juggling back and forth to Classic to do any configuration updates.
This course will help you eliminate all of that, while also introducing you to many new (and super impressive) features in Lightning that will make your life as an Admin much easier. Yes, concepts like custom objects, fields, roles, profiles that will be review for you...but especially at the current discounted price for this course, you will definitely get your money's worth of learning, tips and best practices to turn you into a Lightning rockstar very quickly.
I'm signing up for the STANDARD or PREMIUM plans, but won't be able to attend the live sessions M-F 11am-12pm Eastern. Is that a problem?
Relax. All of the live Zoom sessions will be recorded. They will be available to you to access for as long as you need them.
What's the schedule like, exactly, for these two weeks?
Immediately upon enrollment you will have FOREVER access to a series of pre-recorded videos covering the "Lesson of the day."
You can watch these videos whenever you wish.
For students in the STANDARD and PREMIUM plans, starting Monday, April 19, 2021, we will also meet at 11am-12pm Eastern (M-F), via a private Zoom meeting, answering any questions, diving into more details as needed, addressing any confusion around the "Lesson of the day." The live 11am sessions will also be recorded and available for you to watch whenever you wish, as many times as you'd like.
How do I know that I'll pass the Admin Cert Exam with this course? What's your pass rate?
If you just want to pass the Admin Cert Exam, you don't need this course. All of the material you need is available for FREE on Trailhead. Anyone who can memorize can pass the Admin Cert Exam.
My goal is to turn you into a freakin impressive, rockstar Salesforce Admin who knocks the socks off your colleagues at work.
In this course, I also share tons of best practices, tips, common pitfalls and advice that you won't find anywhere on Trailhead.
I'll also be following the same curriculum used for the official Salesforce ADX201 course ($4,500 USD).
What's the daily schedule? What time does class start?
Nearly all of the course materials are available immediately upon enrollment, as pre-recorded lessons.
Aside from the pre-recorded lessons, we'll have a daily Zoom meeting M-F (April 19 - 30, 2021) to answer questions and dive deeper into related topics. You can start learning the materials anytime at all.
Rewatch the course lessons as often as you like...for life!
I'm signing up for the STANDARD or PREMIUM plan. How will I get my Focus on Force study materials? What's included, exactly?
Many students are also preparing to take the Salesforce Admin Certification Exam, and want study guides and practice exams. Students who enroll in the STANDARD or PREMIUM plans will get immediate access to all course materials PLUS access to Focus on Force's Admin Certification Study Guide and/or Focus on Force's Admin Certification Practice Exams.
Upon enrollment, you will receive an email with instructions on how to access these materials.